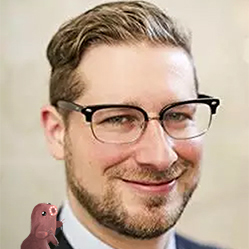 J. R. Becker
author, founder
J. R. holds a B.A. in Philosophy and a Juris Doctorate from Emory University School of Law.  When he's not practicing entertainment law, playing drums, or enjoying the great outdoors, Joseph enjoys all the science and philosophy books and podcasts he can, pondering the bigger questions and dreaming up ideas for future children stories. (Got any? Send them in!) 
After publishing his first (philosophical, dystopian) novel The Spider & the Ant, and later becoming a father, Joseph was inspired to found the Annabelle & Aiden series to foster curiosity and scientific awareness in the next generation.
Joseph lives in New Jersey with his wife Leah, and two children, Annabelle & Aiden.
Max Rambaldi
illustrator, file creation
Max lives in a small town just outside Venice, Italy. As an illustrator, she is proficient with multiple mediums (from physical to digital) and can draw in multiple styles, as seen in her portfolio below. Max is especially fond of cats, Game Of Thrones, and Lindsey Stirling. After wandering the cosmos in search of the perfect illustrator, we're lucky to have found her, just on the other side of our blue planet.
Check out Max's site HERE.
See Max at work on her YouTube page HERE.