We're a pro-science children's book series (and dare we say, community and movement?) dedicated to inspiring a new generation of scientists, thinkers, and all-around adventurers! Our books foster curiosity, wonder, and critical thinking skills by exploring the line where science and philosophy meet. While we think fairy tales and myths have their place, our mission is to show children that learning about the incredible natural world around us can be just as enchanting, while being educational at the same time, and can help us change the world.
We find this especially important in a world increasingly bombarded with false information, superstition, and pseudoscience. As consumers, we wade through information on food labels, prescription drugs, or farming practices. We decide who to vote for, whether to vaccinate, and how to combat climate change. Our children are our future voters, teachers, politicians, influencers, and consumers. Our mission is to inspire them in scientific inquiry and critical thinking skills that will better our world.
We ask the big questions that children inevitably wonder. Where did humans come from? What happens when we die? How did the universe get here? And in as much as we can answer them, we believe in the radical notion that we could (and should!) tell children the truth. Reality offers much to celebrate: one need not resort to fairy tales to foster curiosity and wonder. We not only educate with facts, but we inspire the heart. We not only inspire children with science, but the ethical lessons we can take from it. We celebrate evolution and the big bang: how we're all literally related in the same family tree, made of the same stardust, and live on the same blue dot. How we have to work together, celebrate our diversity, and make our lives as meaningful as we can.
Our books have been praised by science-enthusiasts, educators, parents, and celebrities worldwide, including Penn Jillette, Cara Santa Maria, Sarah Silverman, Mayim Bialik, Richard Dawkins, Michael Shermer, and Seth McFarlane.
Thanks for being here.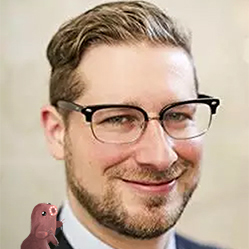 J. R. Becker
author, founder
J. R. holds a B.A. in Philosophy and a Juris Doctorate from Emory University School of Law.  When he's not practicing entertainment law, playing drums, or enjoying the great outdoors, Joseph enjoys all the science and philosophy books and podcasts he can, pondering the bigger questions and dreaming up ideas for future children stories. (Got any? Send them in!) 
After publishing his first (philosophical, dystopian) novel The Spider & the Ant, and later becoming a father, Joseph was inspired to found the Annabelle & Aiden series to foster curiosity and scientific awareness in the next generation.
Joseph lives in New Jersey with his wife Leah, and two children, Annabelle & Aiden.
Mars Nap
illustrator, file creation
Mars joined Annabelle & Aiden to illustrate our 7th title, Oh My Gods! She's just your average star-gazin', tree huggin', thru-hikin' adventure-seeker. You can find Mars making art in her Connecticut home, in the garden, and always with a cup of cinnamon spice tea. Mars creates custom illustration in watercolor, ink, graphite, and digital mediums. Learn more at www.marsnapart.com
Max Rambaldi
illustrator, file creation
Max lives in a small town just outside Venice, Italy. As an illustrator, she is proficient with multiple mediums (from physical to digital) and can draw in multiple styles, as seen in her portfolio below. Max is especially fond of cats, Game Of Thrones, and Lindsey Stirling. After wandering the cosmos in search of the perfect illustrator, we're lucky to have found her, just on the other side of our blue planet.
Check out Max's site HERE.
See Max at work on her YouTube page HERE.